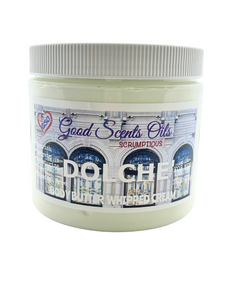 Beautifully textured body cream loaded with moisturizing butters and nourishing oils, blended with Bursting, uplifting scents of neroli, bergamot, citrus and cardamon. 
Directions: Apply generous amount to wet or damp skin to allow cream to penetrate your open pores.  Our thick water based butter creams can be worn all over your body except your private areas!
Packaging:  Comes packed to the rim in a clear plastic durable air tight lid jar.   

Main ingredients: Shea butter, coco butter, plant infused oils, tree nut oils, vitamin e and our signature fragrance blend. 
No Color: White Cream
Created: September 2023
Shelf Life:  One to two years if kept refrigerated.  Paraben Free (No Chemicals)!  
We reserve the right to change prices and packaging at any time.
Subscribe to our emails for promo codes!  (bottom right side of screen)