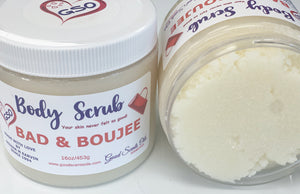 BAD & BOUJEE was created for the woman who loves to smell loud, fruity and fresh! Highly requested last summer!  Lingers longer when paired with matching body cream and spray! 
It is made with fine grained white sugar that provides sensitive skin with a gentle exfoliation, added nourishing oils to attack dryness by penetrating the pores and traveling swiftly underneath the skin and extra butters to lock in the oils and add protection from air or evaporation. Follow this product up with our matching naked cream to take your moisture the distance.
3-n-1 Body Scrub Exfoliates, Moisturizes & Scents your skin all at once. Treat your skin to a real spa affect right inside your bathroom. Polish, Glaze & Nourish your outer layer with real sugar, nourishing oils, butters & vitamin e.
How to use: Cleanse with your regular body wash then apply to wet skin by scooping palm size helpings from jar, scrub from neck to toe (excluding your face), rinse off under warm shower water. Simply pat or air dry and whalaaa~
Warning: Our body scrubs are highly addictive; you will not want to shower without one.
Caution: Can be very slippery in the shower!
Main ingredients: Sugar, tree nut butters, tree nut oils, vegetable oils, vitamin e, fragrance.
Color: Naturally colored
Shelf Life: Two Years
Price & Packaging: We reserve the right to change prices and packaging at any time.
Product Released 2021 
SPRING/SUMMER CATALOG