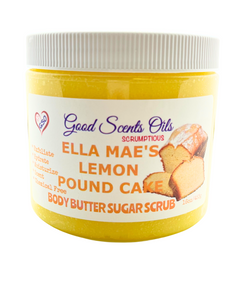 YOUR SKIN NEVER FELT SO GOOD! 
I really miss my grandmother ELLA MAE cooking and baking in the kitchen but one thing I hold close to my heart is her LEMON POUND CAKE recipe that I turned into this moisturizing gourmet body scrub! 
Exfoliate, hydrate, nourish, moisturize, polish, and scent your skin. When you step out of that shower, you will be smelling like a snack and your skin will feel refreshed and glazed.
Directions: Bathe in the shower, then apply to wet skin with palm size helpings, scrub from neck to toe (excluding your face) then rinse off under warm shower water. 
Ingredient: Sugars, shea butter, coco butter, coconut, almond, tree nut oils, vegetable oils, yellow color, vitamin e and fragrance.
Due to the product containing fragrance oils that are not designed for sensitive areas, do not use scrub on your face or in your private areas.  
Warning!  Ingredients can cause your shower or tub to become slippery, use a rubber mat to stand on and clean your shower regularly! 
Color: Yellow
Created in July 2022
Shelf Life:  Two Years
We reserve the right to change prices and packaging at any time.