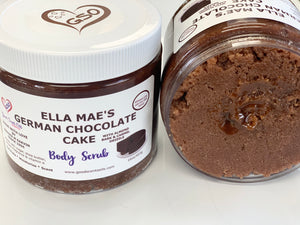 YOUR SKIN NEVER FELT SO GOOD! 

If anybody could make a cake with her eyes closed it would be my grandmother ELLA MAE!  She loved German Chocolate Cake sometimes with crushed walnuts in it and baby she could make one as sweet as ever!!!  Here's to her GCC recipe page but now with Regina's added skin care touch! 
This does it all, exfoliate, moisturize, polish, and scent your skin. When you step out of that shower, you will be smelling like a snack and your skin will feel refreshed and glazed.
Directions: Bathe in the shower, then apply to wet skin with palm size helpings, scrub from neck to toe (excluding your face) then rinse off under warm shower water. Simply pat or air dry and whalaaa!
Due to the product containing fragrance oils that are not designed for sensitive areas, do not use scrub on your face or in your private areas.  
Warning!  Ingredients can cause your shower or tub to become slippery, use a rubber mat to stand on and clean your shower regularly! 
Packaging:  Comes packed to the rim in a clear plastic durable air tight lid jar.
Color: Chocolate Brown
Created in June 2022
Shelf Life:  Two Years
We reserve the right to change prices and packaging at any time.
 Subscribe to our emails for promo codes!  (bottom right side of screen)