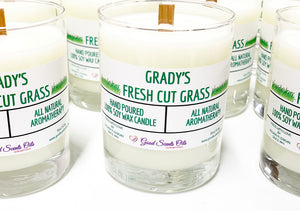 GRADY'S FRESH CUT GRASS is the perfect way to enjoy the coming of spring and summer with our pretty light green soy wax scented candle! 
Named after Regina's cousin, Grady Earvin who is the male matriarch of her grandparent's hometown, Ackerman, MS. 
The short funny backstory about him is his many titles, he's the school bus driver, the police officer, the town councilman and the tractor trailer driving service man who manicured her grandmother's 500 acres of grass!  Here's our dedication to him! 
Packaging
Clear glass tumbler 15oz 
Total weight 1.45lb 
Single wood wick
Height 4" 
Diameter 3.25"
Burn time is very slow, approximately 48hrs