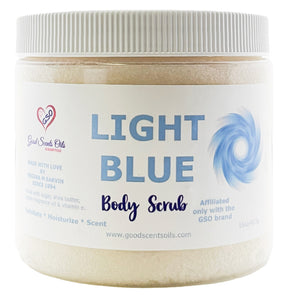 LIGHT BLUE is our replica type fragrance oil for ladies that we blend with our body cream recipe, carrying the notes of green apple, cedar, citrus, jasmine and musk. 
Exfoliates, Moisturizes & Scents your skin all at once. Treat your skin to a real spa affect right inside your bathroom. Polish, Glaze & Nourish your outer layer with real sugar, nourishing oils, butters & vitamin e.
How to use: Cleanse with your regular body wash then apply to wet skin by scooping palm size helpings from jar, scrub from neck to toe (excluding your face), rinse off under warm shower water. 
Warning: Our body scrubs are highly addictive; you will not want to shower without one.
Caution: Can be very slippery in the shower!
Main ingredients: Sugar, tree nut butters, tree nut oils, vitamin e and fragrance.
Color: No color
Shelf Life: 2 Years
Price & Packaging: We reserve the right to change prices and packaging at any time.
Product Released 2012