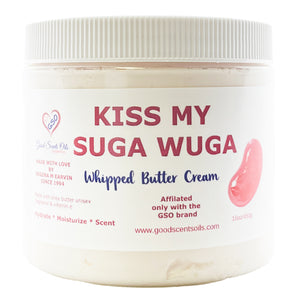 KISS MY SUGA WUGA is one of our most highly requested scents, it carries an extremely high fruity berry note.  
After using the matching sugar scrub, follow up with this nourishing whipped butter cream for added moisture and scent layering!  The after affect is just beautiful! 
Directions: Apply generous amount to wet or damp skin to allow cream to penetrate your open pores.  We do not recommend usage on your face or private areas! 
Color: White Cream
Product Released: 1/7/2013
Shelf Life: One year or longer if kept refrigerated.  Paraben free, no chemicals! 

Main ingredient: Tree nut butters, plant infused oils, vitamin e and GSO signature fragrance blend   

We reserve the right to change prices and packaging at any time.