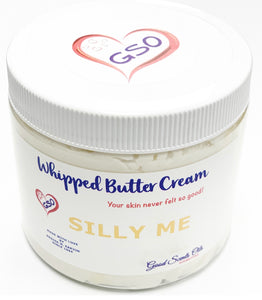 YOUR SKIN NEVER FELT SO GOOD! 
SILLY ME is just fun, happy, delightful, citrus infused, clean very refreshing and unforgettable!

After using the matching sugar scrub, follow up with this nourishing buttery soft whipped butter cream for added moisture and scent layering. 
Directions: Apply generous amount to wet or damp skin to allow cream to penetrate your open pores.  We do not recommend usage on your face or private areas!
Packaging:  Comes packed to the rim in a clear plastic durable air tight lid 16oz jar.  All products are handmade, packaged, sold and shipped right from our warehouse in Merrillville, In 
Color: White Cream, no color added
Product Released 3/31/2012
We reserve the right to change prices and packaging at any time.
Subscribe to our emails for promo codes!  (bottom right side of screen)