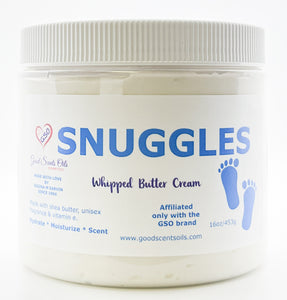 YOUR SKIN NEVER FELT SO GOOD!
SNUGGLES fragrance is baby soft, powdery, soothing and relaxing! Great to wear to bed! 
How to use: Apply to wet or damp skin, massage over entire body from neck to toe.
Main ingredients: Nourishing butters, fragrance and vitamin e

Color: White creamy, natural 
Shelf Life: One Year or better when kept refrigerated.
Price & Packaging: We reserve the right to change prices and packaging at any time.
Product 1/20/2011