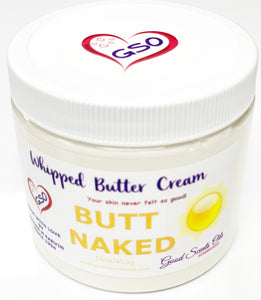 BUTT NAKED with its seriously high fruity notes is one of our best Spring/Summer Sellers!!!  Best worn paired with matching body scrub and spray to linger longer.
Directions: Apply generous amount to wet or damp skin to allow cream to penetrate your open pores.  Our water based creams can be worn all over except your private areas!
Packaging:  Comes packed to the rim in a clear plastic durable air tight lid jar.   

Main ingredients: Tree nut butters, tree nut oils, H20, vegetable oils, vitamin e, fragrance.
No Color: White Cream
Created: 2011
Shelf Life:  One year or longer if kept refrigerated.  Paraben Free (No Chemicals)!  
We reserve the right to change prices and packaging at any time.
SPRING/SUMMER CATALOG