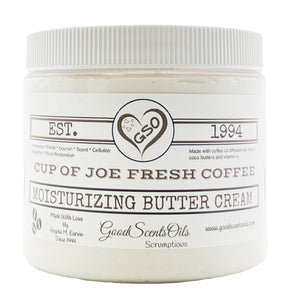 YOUR SKIN NEVER FELT SO GOOD! 
Do you love the smell of coffee in the morning? Did you know coffee benefits your skin as well? 
BENEFITS:
Add moisture to the skin.
Anti-Inflammatory
Improve the appearance of damaged skin.
Help promote skin regeneration.
Reduce soreness in muscles
Mood Lifter
Ingredients: Shea, Coco butters, diffused coffee, vitamin e
After you're done showering with our CUP OF JOE sugar scrub you can layer your skin with our matching butter recipe that will have you smelling like a snack and your skin will feel refreshed and glazed.
Directions: Our butters provides a very nice moisturizing feel, simply scoop as much as you need from the jar and saturate your skin from head to toe or any part of your body that you choose excluding private areas.   
Packaging:  Comes packed to the rim in a clear plastic durable air tight lid jar.
No Color: White cream
Created in July 2022
Shelf Life:  One Year or longer if kept refrigerated.  Our butters are currently paraben (chemical) free.  
We reserve the right to change prices and packaging at any time.
 Subscribe to our emails for promo codes!  (bottom right side of screen indicated as newsletter)