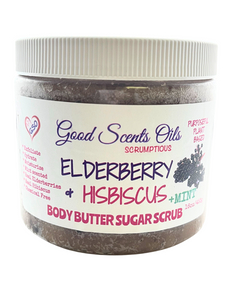 Let's get into the Purposeful Benefits of this plant based infused body scrub with real elderberries, hibiscus leaves and mint that can be enjoyed in your daily living!
* Anti-Inflammatory
* Anti-aging, improves wrinkles, scars and discoloration.
* Antimicrobial
* Helps with pain
* Reduces swelling
* Reduces acne
* Helps to fade dark spots
* Exfoliate
* Moisturizes
* Hydrates
* Helps with relaxing
Main Ingredients:  shea & coco butters, infused with elderberries, hibiscus and mint, vitamin e,
Scent: Hibiscus/Mint
Color: Naturally colored from berries
Shelf Life:  Two years or longer if kept dark cool place.  
Created May 2023
We reserve the right to change the price at any time.