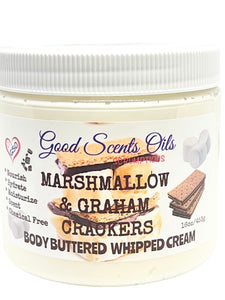 ELLA MAE absolutely loved Graham crackers, either she snacked on them or she crushed them to make pies with! The marshmallows and chocolates on the other hand were Regina's favorite snacks and the three snuggled together firmly just made snacking even more delightful! Some may call them s'mores but in our household they were they were just Ella's treats! Regina found a way to cut the calories by making the skin feel good instead of the tummy with the fragrance that resembles the treat blended with her whipped body cream recipe! Hope you love just the same!
Directions: Apply a generous amount of body cream to wet or damp skin to allow product to penetrate your open pores.  Our water based butter creams can be worn all over your body and bearded hairs except your private areas!
Color: No color.  Cream White. 
Ingredient: Tree nut butters, tree nut oils, fragrance oils, vitamin e
Shelf Life: One to two years if kept refrigerated!  
Chemical and Paraben Free!  
Created October 2023
Packaging: Comes packed to the rim in a clear plastic durable air tight 16oz jar.  We reserve the right to change prices and packaging at any given time.