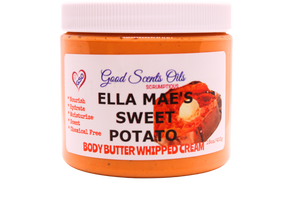 ELLA MAE'S SWEET POTATO SKIN smells just like my grandmother's holiday baked sweet potato pies! I couldn't help myself with this one! The aroma is on point!
Directions: Apply very small amount ( a little goes a long way) amount to wet or damp skin to allow cream to penetrate your open pores.  We do not recommend usage on your face or private areas!
Packaging:  Comes packed to the rim in a clear plastic durable air tight lid jar.   

Ingredients: Tree nut butters, tree nut oils, vegetable oils, H20, vitamin e and fragrance.
No Color: Orange Cream
Additives: Spices, Orange Color, Essential Oils
Created: September 2023
Shelf Life:  One to two years if kept refrigerated.  Paraben Free (No Chemicals)!  
We reserve the right to change prices and packaging at any time.