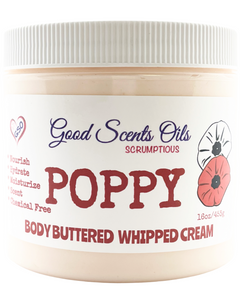 POPPY is our replica type fragrance blended with our body cream recipe, carrying notes of mandarin, jasmine, water lily, gardenia, sandalwood, vanilla and rose petals.  Smells very sweet!
After using the matching sugar scrub, follow up with this nourishing buttery soft whipped butter cream for added moisture and scent layering, ohhhh lawd have mercy, your skin will smell edible all the while refreshed and glazed! Gives a very nice cooling affect which feels really nice! 
Directions: Apply generous amount to wet or damp skin to allow cream to penetrate your open pores.  We do not recommend usage on your face or private areas!
Main ingredients: Shea butter, coco butter, plant infused oils, tree nut oils, vitamin e and our signature fragrance blend. 
No Color: White Cream (can be naturally pinkish) 
Created: 2012
Shelf Life:  One year or longer if kept refrigerated.  Paraben Free (No Chemicals)!  
We reserve the right to change prices and packaging at any time.