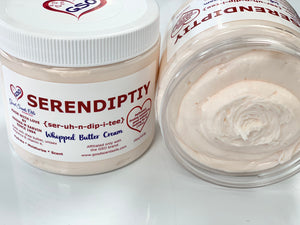 YOUR SKIN NEVER FELT SO GOOD!
Serendipity is our signature sugar scrub that we created with calming notes of vanilla bean and hibiscus. This scent really does help you feel that you have everything under control. It's all about *The Affect* afterwards.
How to use: Apply to wet or damp skin, massage into body from neck to toe.
Main ingredients: Nourishing butters and vitamin e

Color: Natural
Shelf Life: One Year or better when kept refrigerated. 
Price & Packaging: We reserve the right to change prices and packaging at any time.
Product Released 11/20/2011
Subscribe to our emails for promo codes