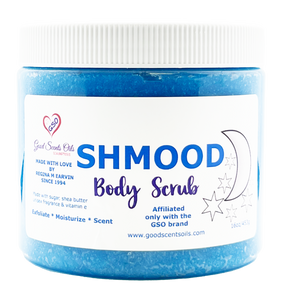 SHMOOD is very soft laid back, sexy and carries medium powdery notes. *Highly Requested* 

How to use: Bath first then scoop generous amount from jar and massage into wet skin scrubbing from neck to toe, rinse off under warm shower water then air or pat dry. 
Warming: Very slippery in shower!  Be sure to clean your standing area and secure with a shower mat.
Caution: Do not use on face.
Main ingredients: Sugar, nourishing butters, fragrance and vitamin e
Color: Deep powdery blue.
Shelf Life: Two years
Price & Packaging: We reserve the right to change prices and packaging at any time. 
Product Released 9/8/2017
Subscribe to our email for promo codes