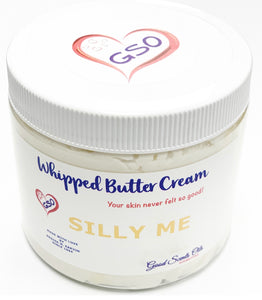 SILLY ME is our signature fragrance carrying soft sweet notes of geranium, bitter lemons, bitter orange, musk and white lily blended with our signature body cream recipe.
Directions: Apply generous amount to wet or damp skin to allow cream to penetrate your open pores.  We do not recommend usage on your face or private areas!
Main ingredients: Tree nut butters, tree nut oils, h2o, vitamin e and fragrance 
No Color:  White Cream
Created: 9/18/2017
Shelf Life:  One year or longer if kept refrigerated.  Paraben Free (No Chemicals)!  
We reserve the right to change prices and packaging at any time.