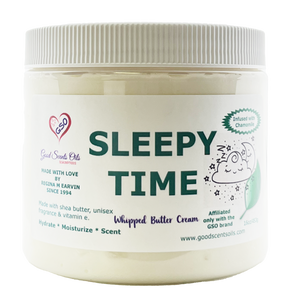 YOUR SKIN NEVER FELT SO GOOD!
Sleepy Time is our signature fragrance created with calming notes of lavender and chamomile to help you relax at the end of your day. Perfect choice for a night inside with some cute pj's and yummy chamomile tea.
How to use: Follow up after using the matching body scrub, apply to wet skin and massage over entire body from neck to toe.
Main ingredients: Blend of tree nut butters, tree nut oils, plant infused oils, vitamin e and GSO signature fragrance  
Paraben free (no chemicals)  
Color: White creamy, natural
Shelf Life: One Year or better when kept refrigerated.
Price & Packaging: We reserve the right to change prices and packaging at any time.
Product Released 5/23/2012