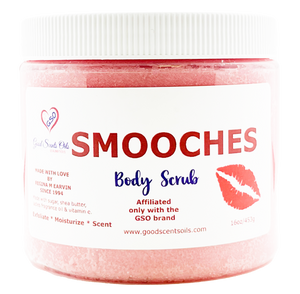 YOUR SKIN NEVER FELT SO GOOD!
SMOOCHES fragrance is a sweet high fruity note, very pretty, smells like candy.  Highly requested!  #1 since 2012
The Texture is soft enough to scrub on sensitive skin, non abrasive, removes dark spots and leaves a smooth silky coating to protect from dryness nearly all day long.  Color and fragrance does not bother sensitive skin but should not be used in place of any prescription medicine.
How to use: Cleanse with your regular body wash then apply to wet skin by scooping palm size helpings from jar, scrub from neck to toe (excluding your face), rinse off under warm shower water. Simply pat or air dry and whalaaa~
Warning: Our body scrubs are highly addictive; you will not want to shower without one.

Caution: Can be very slippery in the shower!
Main ingredients: Sugar, shea butter, fragrance and vitamin e
Color: Pink/Red
Shelf Life: One Year
Price & Packaging: We reserve the right to change prices and packaging at any time.
Product 4/25/2012