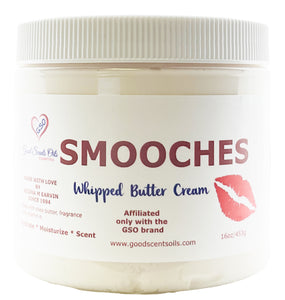 YOUR SKIN NEVER FELT SO GOOD!
SMOOCHES fragrance is a sweet high fruity note, very pretty, smells like candy.  Highly requested!  #1 since 2012
How to use: Apply to wet or damp skin, massage over entire body from neck to toe. 
Main ingredients: Blend or tree nut butters, tree nut oils, plant infused oils, vitamin e and GSO signature fragrance

paraben free (no chemicals)  
Shelf Life: One Year or better when kept refrigerated.
Price & Packaging: We reserve the right to change prices and packaging at any time.
Product 4/25/2012