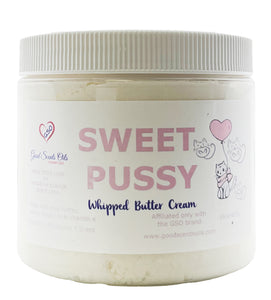 YOUR SKIN NEVER FELT SO GOOD! 
 Sweet Pussy is soft, sweet with tones of musk and very exotic! 
Directions: Our butters provides a very nice moisturizing feel, simply scoop as much as you need from the jar then saturate your skin from head to toe. 
If you have sensitive skin you can surely use our Love My Skin Naked (Unscented) butter cream as an alternative. 
Packaging:  Comes packed to the rim in a clear plastic durable air tight lid jar.
No Color: White 
Created in 2012
Shelf Life:  One Year or longer if kept refrigerated.  Our butters are currently paraben (chemical) free.  
We reserve the right to change prices and packaging at any time.
 Subscribe to our emails for promo codes!  (bottom right side of screen indicated as newsletter)